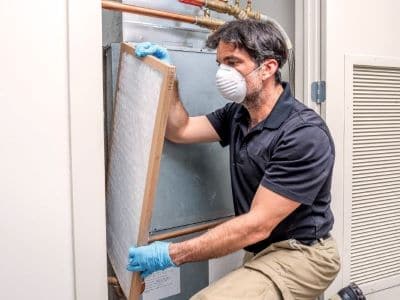 Don't hire just any HVAC contractor when you need preventative maintenance or repair in Paradise. It's important to spend time considering your options carefully, comparing experience levels, prices and customer service ratings. Jumping into a job without researching the professionals in your area can lead to costly services and poor results. 
Insurance Coverage
First and foremost, make sure the professional you hire is covered by insurance. While injuries are relatively rare in this industry, some equipment can be dangerous and accidents do happen. If the HVAC contractor is injured on your property without proper insurance coverage, you could be held liable for any resulting medical bills. 
High Company Rating
Make sure your HVAC contractor works for a company that has a high service rating. Many third-party websites rank businesses and provide a detailed explanation of their assessment process. Reading through this information can be extremely informative. Additionally, most companies and individual contractors make it easy to find past customer reviews and testimonials. This type of feedback will help you gauge how satisfied people are with the services they received.
Warranty Offer
It's also a good idea to look for an HVAC contractor that offers a warranty on their installations. The best warranties cover products and labor. Alternatively, a customer satisfaction guarantee may suffice. It's important to know that if a problem arises, you can get further assistance without spending more money.
Hire an Experienced HVAC Contractor in Paradise Today!
Count on Action Air Conditioning Inc. when you need to hire an experienced HVAC contractor in Paradise. Our company is licensed and insured, with NATE-Certified technicians available to address all your heating and cooling needs. From air conditioning units to heat pumps and gas furnaces, we offer exceptional sales, maintenance and repair services. Contact us today!
Experienced HVAC Contractor in Paradise
Serving Henderson, Paradise & Boulder City
---
Posted on January 29, 2021 | Published by Ignite Local | Related Local Business